Blogging
Blogging with WordPress in 2021: What You Need to Succeed
Last Updated on April 18, 2021 by Mileva Stankovic
Blogging is far from dead. According to blogging statistics, there are approximately 600 million blogs on the internet. If you're ready to join the growing number of bloggers out there, but you're uncertain how to start, this is what you need to know.
Blogging with WordPress in 2021 is one of the best ways to start your blog. Once you get a hang of it, you'll also see that it's not as complicated as it sounds. WordPress platforms are among the most known CMSs for blogging and today, you'll talk about blogging with WordPress, and cover the essentials.
**This post may contain affiliate links and we may earn a small commission when you click on the links at no additional cost to you.
General tips for Blogging With WordPress or any other CMS
These are the latest facts you must know before deciding whether blogging is right for you.
Blogging as we know it today started back in 1999. The first platform for blogging was Blogger. Google search engine worked way differently than it does today, and blogging was easier to handle.
Today, because of the increased competition, Google updates, and other factors, it takes more knowledge and skills to make a successful blog, regardless of your preferred content management system. We promote self-hosted WordPress options for blogging for various reasons that we'll discuss below.
Successful blogging means that eventually, your blog will bring passive income. For that, you'll need the right niche and extensive knowledge about digital marketing and SEO.
WordPress provides you with various tools that can ease you in the blogging game and increase your chances of success. Regardless, blogging in WordPress may turn out to have quite a learning curve.
Blogging with WordPress – 101
First and foremost, it's all about where you post your content. You can't blog if you don't have a fitting Content Management System (CMS) to deliver your content – blog posts – on Google and other browsers. It can be WordPress, Wix, Blogger, whatever you see fit.
While blogging with WordPress, especially the self-hosted kind, you're in total control of your content. What this means is that WordPress is way more flexible than Wix or Squarespace. With it, you'll have more customizing options to choose from when designing your blog or writing blog posts.
The first thing you'll want to do is decide whether you'll go with a self-hosted WordPress.org or host your content on WordPress.com. If this is confusing to you, you're not alone. Many believe these platforms are the same, mainly because of their names and the same interface. However, differences are massive.
WordPress.org is an open-source software used for website, blog, and app creation. Its initial release was in 2003 and it's written in PHP language. Its developer is the WordPress Foundation.
WordPress.com is a platform for publishing content. It was launched in 2005 and was created by Automattic.
To start blogging with WordPress.org, you'll need a domain and a hosting plan.
To start blogging with WordPress.com you can head over to the WordPress.com website and start creating your blog for free.
Today, our focus will be primarily on the self-hosted WordPress, but these tips and tricks will work on WordPress.com as well.
How to Start Blogging With WordPress
Regardless of the type of WordPress you select, you'll need the following:
Hosting
We already mentioned that for WordPress.org you'll need a hosting plan. We recommend Namecheap. You'll get the first month of free WordPress hosting on EasyWP to experiment and have fun. Try EASYWP – TRIAL today and see if you like self-hosted WordPress.
Find all Namecheap's promotions here and save while creating your first blog!
For WordPress.com you won't need separate hosting since the platform does it automatically.
If you're looking for more professional hosting options, you can also check out WP Engine. We are certain that you'll find great themes, affordable managed hosting, and great options for when your website grows and you need to scale it.

Domain Name
A domain name is important because you'll own your website and it'll be eligible for ad monetization. You can purchase your domain on various platforms or also use Namecheap to search for your desired domain.
Get popular Domains for just 99 Cents at Namecheap!
When it comes to WordPress.com you'll have the option to select your domain right from the platform. If you decide to have the free version of the domain, it will contain the wordpress.com extension. In the future, this may appear less professional if you plan to look for sponsorships. Still, you can leave it if you decided to blog for personal reasons.
Think about your niche and create your domain name based on it. This is crucial for branding and SEO.
SSL
SSL certificate is necessary if you're collecting any data. It's basically a way to encrypt the personal information that moves on your website. If you have it, your website's URL will show as httpS. If you don't, it will remain HTTP. Plus, Google is likely to favor blogs with SSL, so you should acquire one. You guessed it – you can purchase your SSL certificate on Namecheap. Keep in mind that if you decide on higher tiers of EasyWP hosting plans, SSL will be included in the package for free.
Social media accounts
In 2021, you're non-existent if you don't have at least one social media profile. Select the one you feel capable of managing, like Pinterest or Twitter. You'll need this to build your audience and share your blog posts. Eventually, you might use the platform to promote your blog.
SEO tools
We use the Ubbersuggest SEO tool to find keywords and create content. You can do so for free on that platform, or use Google Keywords as well. Get ready to set up Google Analytics, Google Search Console, and Bing Webmaster Tools. You'll need these later to keep track of your rankings.
Other SEO tools to consider:
If you think you'll struggle with SEO, we recommend purchasing an SEO Buddy checklist material. The SEO Checklist is the ultimate list to follow and have your SEO set up in no time.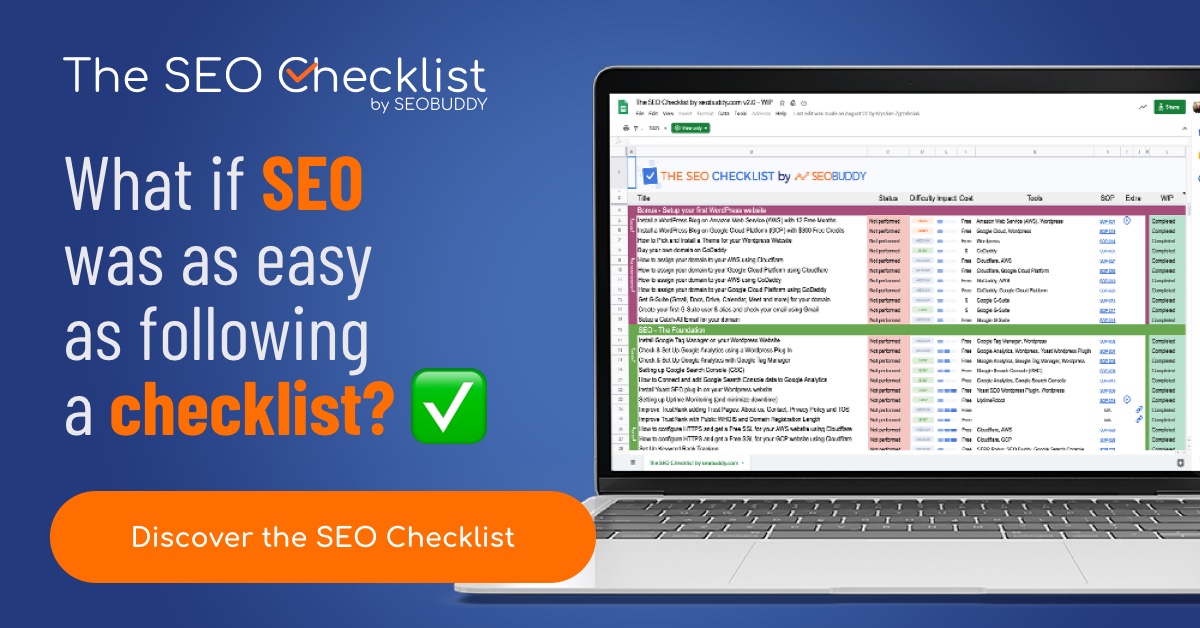 Blog Posts are the Essence
To start blogging using WordPress, naturally, you'll need to write your content.
No point in blogging without writing those, right? You'll want to sort them into categories and make them visible on your home page or anywhere else on the website if you're doing e-commerce.
Some will advise you to write 50 blog posts before setting up your website. That's how you'll have your content ready to start blogging with WordPress. This will save a lot of time and if you keep writing more, you'll always be covered.
Now that you have your blog posts and your website is up, it's time to expand, improve, and offer something more to your visitors.
HINT – if you struggle with time, and content creation or headline ideas, head over to this article and read more about the artificial intelligence tool called Articoolo. It can help you create your content faster.
Briefly on Web Design
You don't have to be an expert in web design to start blogging with WordPress. There are plenty of blogging WordPress themes that are free to customize.
Themes
If you don't like free blogging WordPress themes and you believe they're unprofessional, you'd be surprised to know that many blogs out there run on native WordPress themes such as Twenty Twenty One with success.
Regardless, if you don't want to use the free blogging theme for WordPress, you can find great themes for about $50. You'll want your theme to load fast so that your users stay on your pages longer. Website speed will become crucial in Google rankings in 2021 and beyond, so you'll want to have the right theme from the get-go.
Header and Footer
The header and footer are the same as the roof and the floor of your home. The header contains the menu and the footer contains additional info, sitemap, or important links such as Terms and Conditions and Privacy Policy.
Menu
Your menu will be in your Header. That's the primary thing you should make perfect for your users. User experience (UX) is crucial for blog traffic. You'll want your menu to look good on mobile devices as well. 80% of internet traffic comes from mobile phones, and you'll want your menu to be easy to use.
Having a visible menu in the upper fold of your website helps your visitors to manage surfing through your blog easier and find what they're looking for. Once you set up your blog, you only have a home page and a blog post page. But there's more to include.
The menu should have your blog post categories listed, but you can also include other info:
About – if you're looking to get clients via your blog, include this page and make it become your CV.
Contact me – this way, people will know how to reach you. Set up your email, as well as a simple contact box. Scatter the contact me boxes and subscription boxes all over the blog. Sometimes people are lazy to look for it.
Work with me/Hire me – this is where you're free to promote yourself as much as you like and want. Place your portfolio and/or places where you're featured/mentioned.
Landing pages – these are good if you have any products to showcase. But have in mind that landing pages can be made for webinars and other events. You can make a landing page per product or group the products and services on one. Landing pages are also important if you plan to find affiliates to sell your product.
Store – this is a place where your visitors can purchase from you directly. A good landing page will bring your customers to your shop page, where they'll explore the products and shop. There are many ways to set up a store on many different platforms.
Freebies page – this page can contain the stuff you'd like to give for free, usually in exchange for an e-mail subscription.
Some would say that you should only have categories in your menu, however, there are many people out there blogging with WordPress who have various other pages in the menu. It all depends on what you'll use your blog for and who your audience is.
Legal Pages
Affiliate notice and other compliance can be placed on a sub-page, they don't necessarily need to be on the menu. BUT if you do affiliate marketing, you are obliged to notify the reader of every blog post that has affiliate links.
You also must notify your visitors if any banner on your blog is an affiliate. Legal pages can save you from a lot of trouble. Follow the FTC instructions on affiliate. We do recommend waiting for some traffic to your site before you commit your time to create affiliate content.
Cookie Alerts
Cookie alert is that little popup that notifies your users about the ways you store the cookies on your website. This is not necessary for every country, but you'll want to make sure you set those up because you never know where your visitors will come from in the future.
Plugins
Plugins are one of the reasons WordPress is so powerful. They can speed up your website and notify you of any errors. The basic plugins you'll want to install are:
Rank Math SEO/Yoast
Ads.txt manager (once you're approved for ads)
Meta tags
Autoptimize
Cookie Notice & Compliance for GDPR / CCPA
Some Table of Contents plugin
Sassy Social share, etc
*These are just some of the plugins we're using on Inspiration Wise. Chances are you'll need additional plugins installed, depending on the purpose of your blog.
Social Share Buttons
Social share buttons and your social links are just a detail, but they mean a lot once you get the audience and following. Mobile version of your website – this is especially important because more than 50% of users are on their phones all the time, browsing the web. Having a good mobile-optimized website also helps rank higher on Google.
Images
Your blog posts should contain copyright-free, high-quality images. We recommend Canva, Pixabay, and 123RF.
At the moment there's a 20% off subscription and credits to get you started at 123RF.com.
Optional Stuff
Logo, since it helps with branding.
The tagline, since it briefly explains what you're website is about.
RSS feed, since some users prefer to subscribe to it. WordPress has an automatic RSS feed, so you won't have to worry about it.
How to Make Money Blogging With WordPress?
When you start blogging, you'll start thinking of monetization options and naturally, you'll think of Google Adsense. It's not the only ad provider out there, it may not be the best, so you do your research and make sure to find the best for you. We've covered blog monetization in this article.
Final Word
WordPress is among the best CMSs for blogging. Even though it appears complicated, blogging with WordPress can be one of the best decisions you can make. Take your time to get to know it and it will return tenfold. Or, take a look at some blogging with WordPress tutorial videos to get started today. with the right hosting plan and patience your blog grows and turns into a great passive income source.
FAQ
Is blogging with WordPress free?
Blogging on WordPress.com can be free if you don't need a domain or a premium theme. What's great about WordPress platforms is that even though they're not the same, you can migrate websites between them. Meaning, start with WordPress.com and if you want, you can move your blog to self-hosted WordPress.org.
Can you blog on WordPress?
That's exactly what WordPress is for! Blogging with WordPress does have a learning curve, but it's totally worth it. at the moment, there isn't a better content management platform to blog on and have the complete freedom to do what you want with your content. You can blog on both WordPress.com and WordPress.org with slight differences in expenses.
How much do WordPress bloggers make?
There is no limit to how much you can make once you monetize your blog. according to Reddit/Blogging, some even make up to $20,000 per month. Keep in mind that you'll probably need to remain consistent and stay in the blogging game for a few years before you see some money rolling in.
How can I create a blog in WordPress?
Start by selecting the right domain, SSL, and a hosting plan. Then move on to write content. Don't forget to create the right legal pages, cookie notice, and get a great theme to match your blog. set up social media to share your content. Upload new articles regularly and maintain your blog. update WordPress once you receive a notification to keep it secured.
How long does blogging with WordPress last?
Blogging with WordPress can last for as long as you see fit. Some bloggers remain active for decades. However, many quit after only few months. Still, those who stayed claim that blogging with WordPress was the best thing they've done for getting passive income.