It's still not too late to plan xmas presents for mom. If your mom loves books, then you're settled! Below is the list of seven books you can gift your mom for Christmas.
This post may contain affiliate links and I may earn a small commission when you click on the links at no additional cost to you. You can read my full disclaimer here.
The Overstory by Richard Powers
"The Overstory unfolds in concentric rings of connected fables that go from antebellum New York to the late twentieth-century Timber Wars of the Pacific Northwest and beyond, exploring the essential conflict on this planet: the one taking place between humans and nonhumans. There is a world alongside ours, which is interconnected, resourceful, magnificently inventive, and almost invisible to us.
The Overstory is a book for all readers who despair of humanity's self-imposed separation from the rest of creation and who hope for the transformative, regenerating possibility of a homecoming.
If the trees of this earth could speak, what would they tell us? "Listen. There's something you need to hear." "
The Kite Runner by Khaled Hosseini
This novel tells the story of Amir, a young boy from the Wazir Akbar Khan district of Kabul, whose closest friend is Hassan. Hosseini has commented that he considers The Kite Runner to be a father-son story.
The friendship between Amir and Hassan gets interrupted by a gruesome event that Amir could've maybe stopped, but didn't. Decades later, eaten by guilt, shame and seeking redemption, Amir goes out to look for Hassan in hopes of forgiveness.
Deeply tragic but beautiful, this book was a number one New York Times bestseller for over two years, with over seven million copies sold in the United States.
The Stone Sky by N. K. Jemisin
This book is the third in the Broken Earth Series
· The Fifth Season (August 2015)
· The Obelisk Gate (August 2016)[20]
· The Stone Sky (August 2017)
And it revolves around social segregation. The scene is set in a supercontinent called the Stillness, which is constantly wracked by geological cataclysms, and every few hundred years an event it suffers through events severe enough to touch off a global volcanic winter, referred to as the Fifth Season.
Some characters have the ability to manipulate geological energies on a large scale, as well as magic but they are a persecuted and feared minority, though it is largely due to their efforts humanity has survived the Seasons.
Memoirs of a Geisha by Arthur Golden
This historical fiction novel was published in 1997, and if by any case, your mom doesn't have it in her library, hurry up and buy it for her!
The novel, written in the first person, tells the story of a girl and her sister being sold from their home and placed in the prominent geisha district to learn how to be geishas. Chiyo's sister doesn't stay for long though, as she is resold to a brothel in Kyoto's pleasure district.
But Chiyo decides that that's not the life she and her sister will have.
Song of a Captive Bird by Jasmin Darznik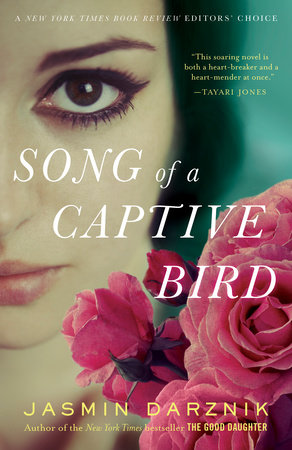 "A spellbinding debut novel about the trailblazing poet Forugh Farrokhzhad, who defied Iranian society to find her voice and her destiny"
All through her childhood in Tehran, Forugh is thought that Iranian daughters should obey. Yet somehow she always finds a way to rebel, even if it meant gossiping or writing poems to impress her strict, disapproving father, or sneaking out to flirt.
It's during the summer of 1950 that Forugh's passion for poetry really takes flight—but what would that mean for her freedom?
At My Table by Nigella Lawson
A cookbook is never a miss when it comes to gifts. But make sure you tell her that you love the way she cooks though!
Nigella's At My Table: A Celebration of Home Cooking offers a collection of recipes that are simple to prepare, giving you an opportunity to enhance your culinary skills and create a variety of delicious dishes—featuring a host of new ingredients to enrich classic flavors and tastes.
The Art of Discarding by Nagisa Tatsumi
Before Marie Kondo, there was Nagisa Tatsumi.
This book speaks about ways to tidy up and declutter once and for all, but what's most important – urges us to think about our attitude towards possessing things. Showing us that we can have the courage and conviction to get rid of all the stuff we don't need while offering advice on how to tackle the things that pile up at all times. What a perfect Xmas gift for mom, right?
What books will you be buying to your moms this Christmas? Comment bellow and don't forget to share this list with your friends.
Summary of Xmas Presents for Mom
Thinking of xmas presents for mom is easy if your mother loves books. There are plenty to chose from, and the online bookstores have never been more available to order from.
Check out the Creators page . If you wish to be featured as an author (it's free), read more and fill out this form.